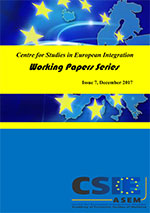 CSIE Working Papers (WP) aims at providing young researchers with a possibility to publish their scholarly papers, the results of their research activity, to get a feedback from the other researchers, to improve the methodology and to validate the results.
Additionally, WP encourages the exchange of the latest academic research, bringing new ideas and offering practical case studies altogether with relevant topics.
This work is licensed under a
Creative Commons Attribution-NonCommercial-NoDerivs 3.0 Unported License
.
ISSN 2537-6187 (online)
Periodicity – 2 issues per year (June, December)
Language of publication - English and Romanian
Edited by: Center for Studies in European Integration (CSEI), Academy of Economic Studies of Moldova (ASEM)
Indexed in:
Call for Papers
It is a pleasure to announce new call for papers for the online journal "CSIE Working Papers Series", Issue XVII and XVIII
All submitted papers will be double-blind reviewed. Authors are invited to submit original previously unpublished research papers written in English or Romanian.
Please see a AUTHOR'S GUIDLINES for writing a paper.
IMPORTANT! "CSIE Working Papers" does not charge submission or processing fees from authors.
DEADLINE for submitting a paper: 30 May 2021
Please do not hesitate to contact us via e-mail: csie.wp@ase.md (Contact person - Liliana STAVER). If you need any further information about "CSIE Working Papers Series", please visit: http://csei.ase.md/wp/
We look forward to receive your papers and invoke you to disseminate the call to other possible interested