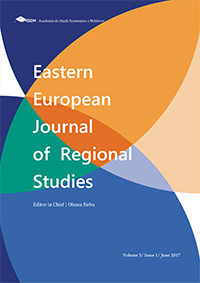 The Eastern European Journal for Regional Studies (EEJRS) is dedicated to foster an effective interaction between innovation, education and research in the Eastern European Neighbourhood countries in order to better understand its transformations induced by European integration process.
EEJRS is a two times peer-reviewed academic journal (June and December).
ISSN: 2537-6179
ISSN: 1857-436X Periodicity – twice a year
Language of publication - English
Founder – Academy of Economic Studies of Moldova (AESM), Center for Studies in European Integration
Acredited by ANACEC: category B (June 2020)
Indexed in:






CALL FOR PAPERS:
It is a pleasure to announce new call for papers for the pages of the "Eastern European Journal of Regional Studies" magazine, Volume 6, Issue 1.
All submitted papers will be double-blind reviewed. Authors are invited to submit original previously unpublished research papers written in English.
Please see a AUTHOR'S GUIDLINES for writing a paper.
IMPORTANT! EEJRS does not charge submission or processing fees from authors.
DEADLINE for submitting a paper: 31 August 2020
Please do not hesitate to contact us via e-mail: eejrs.csie@gmail.com (Contact person - Dr. Rodica CRUDU). If you need any further information about EEJRS, please visit: http://csei.ase.md/journal/
We look forward to receive your papers and invoke you to disseminate the call to other possible interested people.